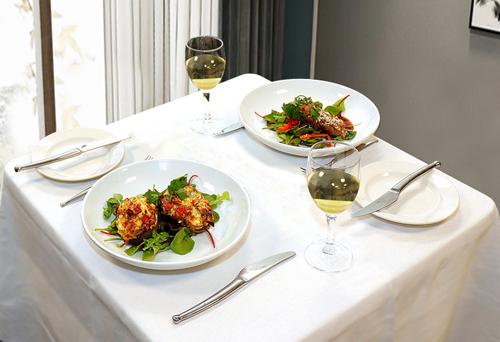 Portobello Mushrooms & Thai Beef Salad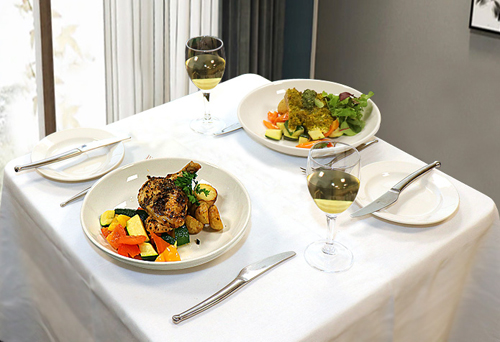 Peri Peri Spiced Chicken & Pesto Crusted Haddock
Let Elite Cuisine bring the restaurant experience to your home! We have created a restaurant-style menu that you can enjoy for any occasion!
Order by phone or online before 4:00 p.m. on Wednesday and get it delivered HOT on the Friday up to 7.30 p.m.
Food can also be collected hot at our kitchen every Friday between 5:00 p.m. and 7.30 p.m.
Starters
Buffalo Style Chicken Wings with a Lemon Aioli (1wh,3,)
Chicken Satay Skewers with a Thai Style Peanut Sauce (5)
Portobello Mushrooms Stuffed with Goat's Cheese & Sunblushed Tomato (1wh,7,8al)
Thai Beef Salad with Crunchy Asian Vegetables & Sesame Dressing (1wh,6,11)
Main Courses
Roasted Lemon & Thyme Whole Spatchcock Chicken (whole chicken) resting on a bed of Roasted Vegetables, served with Mini Potatoes and Gratin Potato – Serves 4 (7)
Moroccan Slow Cooked Spiced Lamb Tagine with Apricots and Toasted Almonds, served with Spiced Vegetables & Herb Scented Cous Cous (1wh,8al)
Pesto Crusted Haddock with Roasted Cherry Tomato & Roasted Vegetables, finished with Gratin Potato (1wh,4,7)
Peri Peri Spiced Chicken Supremes resting on Roasted Tomato and Mediterranean Vegetables with Rustic Potatoes
Malaysian Style Chicken, Peanut & Coconut Curry with Spiced Chick pea and served with Turmeric Rice (2,5)
Desserts
Velvet White Chocolate & Raspberry Tartlet (1,3,7)
Salted Caramel Chocolate Tart with Hazelnuts (1wh,3,6,7,8haz)
Citrus Lemon & Fruit Tart (1wh,3,7)
Lemon Roulade with a Passionfruit Coulis (3,7)
All our meats are quality Irish and locally sourced from the finest purveyors. All our beef is 100% Irish.
1bar = Barley    1oats = Oats   1rye = Rye   1wh = Wheat   2 = Crustaceans   3 = Eggs   4 = Fish   5 = Peanuts   6 = Soybeans   7 = Milk   8 = Nuts   8al = Almonds   8haz = hazelnuts   8pine = pinenuts   8wal = walnuts   9 = Celery   10 = Mustard   11 = Sesame seeds   12 = Sulphur dioxide & sulphites   13 = Lupins   14 = Molluscs